MS Antibacterial Gel Hand Sanitizer (3.4 oz Size)
12 Pieces Per Display Box
Whether for yourself, your family or your business, this 12-pack of hand sanitizer bottles ensures that everyone has the tools they need to minimize the spread of illness. Featuring a 70% alcohol formula to kill 99.9% of germs, this antibacterial hand sanitizer is an excellent way to stay hygienic when access to soap and water is limited or inconvenient. The Centers for Disease Control and Prevention (CDC) recommends the use of an alcohol-based sanitizer that contains at least 60% alcohol when soap and water is not available. Each hand sanitizer bottle contains 3.4 ounces of gel sanitizer.
Kills 99.9% of Germs
70% Alcohol Disinfectant
Gel Antibacterial
Disinfects Hands without Water
FDA / CE Registered Manufacturer
Product: Gel Antibacterial Cleanser; 70% Antiseptic Alcohol with Cleansing Beads.Product Effectively Eliminates Germs and Bacteria to Prevent Them from Spreading. Product has No Strong Irritation to Skin; Effectively Keeps Skin Aseptic, Hygienic, and Healthy. As with Any Alcohol-Based Product, Keep Away from Heat/Hot Surfaces/Flame.

3.4 Fluid Ounce Specifications:
12 Pieces / Display Box

Active Ingredient: Ethyl Alcohol 70% v/v

Inactive Ingredients: Water, Propylene Glycol, Carbomer, Fragrance, Tocopheryl, Acetate, Disodium EDTA, Linalool

Execution Standard: GB26373-2010
Registration Certificate: 2020-0051
Lot #: QP202006
Customer Reviews
David C.

United States
I recommend this product
04/23/2021
Great Purchase
The items themselves are great. Small enough to carry around in a bag, place in car, or jacket to have handy when needed. Only reason why this didn't get 5 stars was the shipping. When I received the box, 2 of the bottles had opened and spilled everywhere. But overall solid purchase. Will buy again when running low.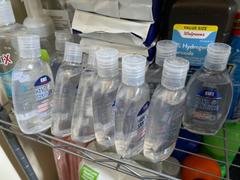 David C.

United States
I recommend this product
09/19/2020
Solid Purchase
This is great for traveling purposes. Something that fits inside your backpack or jacket when using the train or after shopping in these Covid-19 times. Decent pricing as well.